12

Sep

The Ocean Cleanup
---
Finally! After what seems like an eternity our Micro Element Complex conditioner is ready, so the Oceansafer 300ml range is complete! This means we can release our donation to The Ocean Cleanup, something we've been itching to do for ages.
The Ocean Cleanup is a fantastic operation - a great plan to roll out a huge barrier to the garbage patch in the Pacific, (and then other areas of intense rubbish across our oceans) to collect waste plastic items that just float there, gradually breaking down into the microplastics that are so harmful to the food chain.
The Ocean Cleanup will visit periodically to collect the rubbish and recycle it. Anyway, here we are trying to explain it (badly) why not visit their site yourself, read up about it and you could support them too!
Visit their site here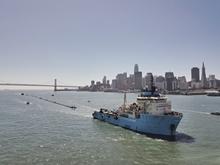 Image courtesy The Ocean Cleanup

Caroline Henry does not claim to be authorised or endorsed by this charity or any other charity mentioned on this website. Charities are mentioned only to show customers of Caroline Henry where charitable donations have been disbursed. Caroline Henry has no affiliation with any of the charities mentioned save for donations made to them. A list of those donations is available on request. Neither cosmetic conscience, treevive, oceansafer nor Caroline Henry are charities themselves.